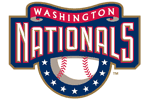 Anyone who was at the Phillies-Nationals game or watched it on TV yesterday was well-aware that the joint was overrun by Philly fans, but I hadn't realized how overrun until I read some of the commentary about it all this morning: "tens of thousands" of Philly fans came to Washington yesterday, many as the part of a concerted, group-ticket-purchasing effort.
I lived in D.C. for three years and it's obvious that most people there come from someplace else, thereby explaining the lack of deep, city-wide loyalties to any sports teams not named "Redskins." And heck, even the Redskins are more of a social networking event these days than a true rooting interest. But to get shown up so terribly on Opening Day in your own ballpark is just poor.
There have to be 40,000 die-hards in a region of five million. The team can't choose who they sell their tickets to, but they can structure their promotions to do more to develop a local interest, can't they?