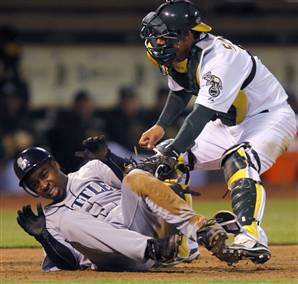 "The Gnats" made their debut for the Mariners on Monday night, and Chone Figgins and Ichiro were as pesky as expected in Seattle's 5-3 victory over Oakland.
Figgins stole second base twice, each time advancing to third on throwing errors by A's catcher Kurt Suzuki. Ichiro stole second once, but was then thrown out at third on another attempted steal with Figgins at the plate. As Geoff Baker of the Seattle Times writes, the M's want the pair to communicate better.
There was one occasion last night when Ichiro was thrown out at third trying to steal on a 3-1 pitch. Had Figgins known he was going, he could have bluffed a bunt and drawn third baseman Kevin Kouzmanoff towards the plate. But Figgins had no idea, took ball four, and Kouzmanoff held his ground and was at the bag to apply the tag.

Ichiro appeared to beat it by a hair, but was called out anyway.

Mariners manager Don Wakamatsu said today that the pair have been working to improve communication with each other. That's now going to be stepped up somewhat, likely through visual signals they can give each other.
The Mariners stole three bases on Monday, but were also caught twice (Milton Bradley was nabbed trying to swipe second), so their success rate is going to have to improve. With a batting order this weak, the team just can't afford to give up base runners.
In other Mariner news, Baker also writes that Cliff Lee played catch without pain for a third straight day, and Erik Bedard is set to throw a bullpen session on Thursday. So pitching help might be on the way, but will there be enough offense?
Are you on Twitter? You can follow Bob here, and get all your HBT updates here.