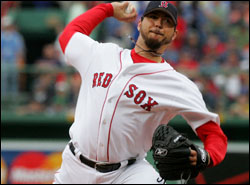 With nothin' but night games and not enough of the season behind us for it to have yet created its own newsy momentum, today is a bit slow. So let's go back to yesterday and look a bit more closely at the Josh Beckett deal. Pfun Pfacts:
The team had asked Beckett to include a medical
contingency clause in his contract that would have, presumably, slashed his salary in the event that he later got hurt, thereby transferring the risk of injury to the player rather than the team. As I wrote back in February, this is the Red Sox' new m.o.  They did it with John Lackey and J.D. Drew. They tried it with Bay, but he wasn't having it. The team would have to offer more money to the player for it, but I have this feeling that players like their guaranteed money too much to respond kindly to these offers. Gambling is illegal for ballplayers, after all.
Also, Beckett's initial demand to the Sox had apparently been for Carlos Zambrano money: five years $91.5 million deal with vesting options.  This comes from WEEI's Rob Bradford. I hope that Bradford used Zambrano's name first for comparison purposes and not Beckett's agent for negotiating purposes, because you're not going to go very far in life trying to get people to do for you what the Cubs did for Zambrano.
Finally, the Red Sox are clever: by waiting until after Opening Day to announce the deal, the Red Sox
avoided having the extension count towards this year's luxury tax, saving the team around $4 million for those purposes in 2010. Of course, it just pushes the full $16 million of it on to next year, but presumably David Ortiz and Mike Lowell won't be on the books next year, so the sunlight between the Sox' payroll and the luxury tax threshold will be much greater. If Ortiz and Lowell are still hanging around at luxury tax-threatening salaries, someone call the cops, because Theo Epstein will have been abducted by the pod people. Or maybe Brian Sabean.
I'm late to the assessment party, but a good deal for the team, I think. Probably a good one for Beckett too given that he could post another 2006 or 2008 kind of season and see his market diminish considerably this offseason.