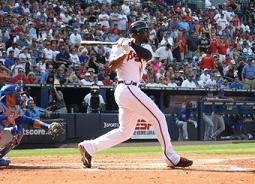 Braves 16, Cubs 5: Yeah, I saw
it. Right before it happened I even berated Chipper Jones for
scoring from third because it screwed up Heyward's inevitable debut
at-bat grand slam. A few seconds later: bammo.
By the way, everyone seems to want to go with "J-Hey" as a nickname. I
suppose there's no stopping that train, but before it reaches full
speed, allow me to offer "Heymaker." Someone
suggested that one to me yesterday and I like it better than the
first-initial/beginning of last name construct that has become so very
tired. And besides, "J-Hey" is a Willie Mays reference, and while
hyperbole may be the order of the day with Jason Heyward, he's never
going to have the glove or the speed to be a Willie Mays comp.  Let's
push this more in a Dave Winfield/pre-coke Dave Parker direction. Just
seems more appropriate.
Cardinals 11, Reds 6: Keep an eye on this Pujols kid because he might be pretty good some day (4-5, 3 RBI, 2 HR).  And it's cute how Pujols credited working with Mark McGwire in the postgame interviews too. That's like Mozart thanking Salieri for helping him finish The Magic Flute.
Pirates 11, Dodgers 5: Garrett Jones may not have that Pujols kid's promise, but he hit two bombs yesterday too. One of them was an absolute blast: 450+ feet out of the park and into the Allegheny River on a bounce. Not to take anything away from Jones, but it's possible that Vicente Padilla didn't have his best stuff yesterday: He gave up seven runs and six hits in 4.1 innings. According to a friend of mine who was at the game, at least one of his pitches was that crazy quasi-eephus pitch thing he throws. I've seen him do it on TV before, but only when he's struggling and knows he doesn't have anything.
White Sox 6, Indians 0: Mark Buehrle pitched fast (game time: 2:24), threw blanks (7 IP, 3 H, 0 ER) and may have made the defensive play of the year already, kicking a batted ball to the first base line and flipping it back between his legs to Konerko who barehanded it at first to nail Lou Marson at first. You can read about it and watch video of it here. Just sick. Sick for different reasons: Indians' starter Jake Westbrook had four wild pitches.
Phillies 11, Nationals 1: Nice day for the imports: Roy Halladay begins his march to what I'm betting is a Cy Young Award (7 IP, 6 H, 1 ER, 9K). Placido Polanco hit a grand slam and drove in six. Charlie Manuel was late meeting with reporters after the game because he had to take ten minutes out to explain to Halladay what run support was and that it does not make him any less of a pitcher that he did not have to win the game via a shutout.
Rangers 5, Blue Jays 4: Shaun Marcum had a no hitter into the seventh inning. Gleeman and I were chatting online and debating whether we should put a "Marcum has a no-hitter in progress" post up.  We decided against it. We figured, fine, if he made it through the seventh, do it, but 6.1 innings didn't seem quite enough.  A second later Marcum walked Josh Hamilton, gave up a single to Vlad Guerrero and then a homer to Nelson Cruz that tied things up, so we're glad we didn't post anything. And for what it's worth, Marcum remained the pitcher of record through the Jays' half of the eighth and left the game with a lead, but Jason Frasor blew it in the ninth. Query: is it more depressing to lose like that on Opening Day or to get drilled 11-1, Phillies-Nats style?
Mets 7, Marlins 1: I wasn't crazy about the Mets' lineup, but they won so I should shut up.  Nah, just kidding. I'm not shutting up. Mike Jacobs went 0 for 4 in the cleanup spot with a couple of strikeouts. It worked out because Josh Johnson didn't have spit and Gary Matthews, Jr. hit well down on the other side of Bay (2-3, BB), but this is going to bite them sooner or later.
Giants 5, Astros 2: Reports of Tim Lincecum's rust have been greatly exaggerated. Dude didn't do much except shut the Astros out over seven innings, striking out seven and walking no one. The bullpen made it slightly interesting with Brandon Medders allowing a couple of runs in the ninth, but maybe Brian Wilson will buy him a steak this weekend for giving him an unexpected save opportunity. The offense was a team effort with a homer from DeRosa, an RBI double Renteria, some assorted RBI singles and a sacrifice fly.
Diamondbacks 6, Padres 3: There was a period in the 1960s when stadium architects decided that the time when accidents of geography and ad-hoc additions to ballparks interfering with the game had to end. Just because the old man who founded the team back in 18-dickety-seven was too cheap to build his ballpark on property large enough so that it that didn't require odd dimensions and overhanging seats didn't mean those imperfections had to be maintained! No, they built nice symmetrical ballparks that ensured fairness and purity of competition!  But everyone hated those, so they tore them all down and built new parks with phony architectural quirks whose form does not follow any function accept nostalgia and the maintenance of an ignorance of history. Quirks like the overhang in right center at the Dbacks' park, off of which caromed Stephen Drew's fly ball, shooting it back towards the infield and giving him an inside-the-park home run in the fourth inning.
Tigers 8, Royals 4: Zack Greinke pitched better than Justin Verlander in this much anticipated matchup, but Greinke has the inferior pen, which yesterday gave the Tigers six of their eight runs. Home run from Yuniesky Betancourt hit a home run for the Royals, which ain't something you see every day.
Rockies 5, Brewers 3: Ubaldo Jiminez and a whole bunch of relievers who are not named Huston Street and are not as effective as Huston Street brought this one home. But not without some drama, as the Brewers threatened, ultimately emptily, in the ninth. Ryan Braun describing Jiminez's stuff: "He's throwing 99 and the ball is moving a foot and a half. He's got great stuff. We won't face anybody with better stuff — ever.
He has as good of stuff as you'll see in the game."
Angels 6, Twins 3: What did you think of Hideki Matsui's performance? Would you like to have a player like Hideki Matsui in your lineup? Answers: not bad: 2-4, HR, 2 RBI, including what would serve as the game-winner; and yes. Kendry Morales had an identical line. Except no game-winner, because you can't have two of those in one game. It's physics. At least I think it's physics.
Mariners 5, Athletics 3: Casey Kotchman was 2-4 with 2 RBI. Milton Bradley was booed all evening by the Oakland crowd and then shattered his bat slamming it into the ground in frustration after striking out to end the ninth, right after Kotchman hit what would be the game-winning RBI, which is the sort of thing that pisses off your teammates way more than saying dumb things to the media.  Oh, and the Oakland juju has started the season out just dandy:
Four A's-clad fans among the 30,686 in attendance carried two banners:
"Lew Wolff Hates Oakland" and "Keep Our A's in Oakland" while two others
banged drums as they took their message about the team's owner through
the stands.
And Bud hasn't even announced that Oaktown is a lame duck city yet!