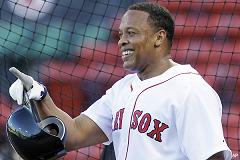 Here's a question for you:  Which of the following people who participated in last night's festivities seemed the most awkward and out-of-place?
Pedro Martinez, throwing the first pitch out as if he were all retired and everything, which frankly, is something for which I'm not ready;
Dr. Dre, who should not, under any circumstances, be seen wearing the jersey of an east coast team.
Between all that and just how sloppy the game itself was I just can't express how discombobulating last night was for me. I'm going to pretend that it was merely an extension of spring training and that the real Opening Day is today.  Greinke vs. Verlander!  Santana vs. Johnson! Oswalt vs. Lincecum!  Far less ridiculousness, I'm sure.