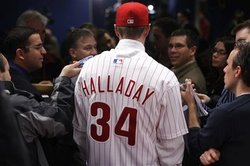 Between Aaron's last post and this post we're sort of recapping games which is not what we usually do, but (a) it's Opening Day and everyone has been good enough not to mess up the vibe with real news; and (b) these sorts of recaps pretty much capture what Opening Day is all about: renewal and the restoration of order in the universe.
If Pujols restored the natural order of things with his two bombs, Roy Halladay did the same with his performance: one run on six hits in seven innings with nine strikeouts.  The one run came in the first. After that he settled down and mowed down everyone between the second and the seventh, throwing 88 pitches and getting the win.
The man is going to just destroy National League hitters this year.