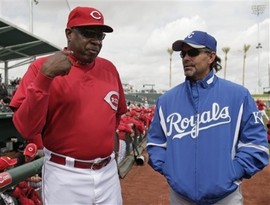 It's usually about putting your best foot forward when it comes to setting a lineup on Opening Day. Dusty Baker, though, decided to lead with his head up his ass.
The Reds played both their fourth and fifth outfielders Monday, with Chris Dickerson leading off and Laynce Nix in the seventh spot.
The choice to bench Drew Stubbs was especially baffling. Not to knock Dickerson's glove, but Stubbs is clearly superior defensively. Plus, he hit .300/.354/.700 with five homers in 60 at-bats this spring. To top it all off, he was essentially named the starter going into the exhibition season. Dickerson got off to a hot start last month, but he finished at a modest .288/.327/.462, while Stubbs entered the day about as hot as any NL hitter.
One could justify playing Dickerson, but in left, not in center. He does, after all, offer a lot more defensively than Jonny Gomes, something that's pretty important with Aaron Harang on the mound. But Gomes wasn't the starter either, even though all he did was hit .267/.338/.541 for the Reds last season and slug five homers in 55 at-bats this spring. Instead, Nix, who was lucky to make the team over Wladimir Balentien, got the call. Nix hit .239/.291/.476 for the Reds last year, boosting his career line to .236/.277/.421. Baker knows that he'll never have to worry about him clogging up the bases.
For what it's worth, the Reds ended up losing 11-6. Dickerson went 1-for-5 in the leadoff spot. Nix was 1-for-2 before Stubbs replaced him and went 2-for-2 with an RBI.
Some other odd choices:
*Dodgers manager Joe Torre must have been too preoccupied to notice that the Pirates were starting a lefty in Zach Duke today. Matt Kemp, who merely torched southpaws for a .362/.429/.616 line last year, hit fifth ahead of James Loney. If there was ever a situation that called for pitching around a guy, that's it. Kemp was originally slated to bat second this year, but Russell Martin was in that spot today.
Also, the Dodgers this winter signed three bench players who essentially remain in the league because of their performance against left-handers: Reed Johnson, Ronnie Belliard and Jamey Carroll. Not one started today, though. That's not necessarily the wrong strategy. But if the Dodgers didn't want to platoon anywhere, then they chose the wrong batch of reserves.
*The Mets had Alex Cora lead off and Mike Jacobs bat cleanup. I think this one has been better covered elsewhere, but someday soon, they're going to lose a game with Jacobs at the plate in the ninth and Jason Bay waiting on deck for a chance that never comes.
*With Alberto Callaspo still nursing a minor oblique injury, the Royals had Willie Bloomquist starting at third base and batting sixth. The sad thing is that you can almost justify batting him sixth, when the spots below him were occupied by Yuniesky Betancourt, Jason Kendall and Chris Getz. But why not go to Mike Aviles instead?