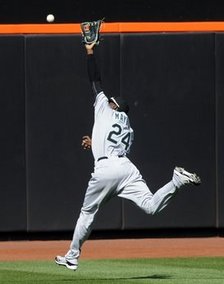 Cameron Maybin's body was in Citi Field on Monday afternoon, but he may
have left his head somewhere in the depths of Roger Dean Stadium. The
Marlins' center fielder, who just turned 23 on Sunday, was 0-for-4 with
three swinging strikeouts, narrowly
avoiding the dreaded golden sombrero. But that's not even the worst of
it. By my count, he let three flyballs drop in front of him and one go
over his head, the latter part of a critical four-run sixth inning for
the Metropolitans.
It wasn't an easy day to play center field, as Gary Matthews Jr. can
surely attest. MLB.com says the wind was blowing out to left field at
about 13 mph, but it was playing tricks with any ball in the air,
forcing Matthews to stagger on a regular basis. I haven't watched
Matthews much over the past few seasons, so I can only assume that's not
some sort of trademark. If so, well, I need to stock up on antacids.
In any case, Maybin's tools are undeniable. Though he was demoted last May, he even hinted at some
progress as a September call-up last season, batting .293/.353/.500 with
three homers, 10 RBI and 19 runs scored over his last 28 games. I don't want this to sound like a knee jerk reaction, because I believe he should be playing every day in the majors, but he simply lacks the polish to be hitting No. 2 in front of Hanley Ramirez right now.