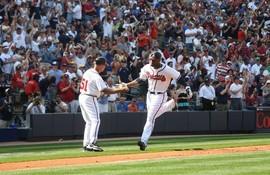 I figured Craig would be all over this one, but in case you missed it, 20-year-old Jason Heyward homered off Carlos Zambrano in his first major league at-bat Monday.
The majestic three-run shot put the Braves up 6-3 in the first inning, and Atlanta went on to 16-5 in a rout. Howard, who started in right field and hit seventh, also had an RBI single in his five at-bats.
Heyward was the sixth Atlanta Brave to homer in his first at-bat. The last was Jordan Schafer, who had a second-inning homer off Brett Myers in his debut on Opening Day 2009.