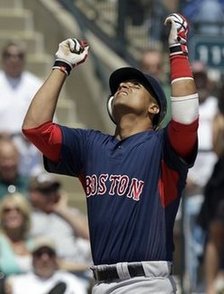 Nothing particularly new here, but with the recent extension handed out to Joe Mauer and the start of the season just one day away, there's a very good chance that Victor Martinez will be the premiere catcher on the free agent market this winter.
Consistent with what he has said all spring, Martinez told Scott Lauber of the Boston Herald on Friday that he doesn't want to negotiate a contract extension during the season.
"During the season, I really have enough to worry about, just playing
the game," Martinez said. "I don't want any distraction."
It would appear that the Red Sox should have a sense of urgency to re-sign Martinez, but Lauber does a pretty good job of playing devil's advocate. Martinez isn't viewed as a particularly strong defensive catcher — Driveline Mechanics has him somewhere in the middle of the pack — as he threw out just 13.8 percent of baserunners last season.
Also, although Martinez is expected to be the primary backstop in Boston this season, remember that he'll turn 32 in December, meaning that his future is likely at first base or designated hitter. Translate his offensive output behind the plate to first base and while he's still very good, he's not nearly as impressive as say, Ryan Howard, who will be a free agent after the 2011 season. 
In turn, Martinez told Rob Bradford of WEEI.com that he doesn't need assurances of staying behind the plate as part of his next contract:
"I don't think I'm going to have to say that," Martinez said. "I'll just
play where they need me to play. I just want to help my team win every
night. If my body lets me catch, I'll be more than happy to do it. I
really like the position and I prepare myself to catch every day."
Martinez has repeatedly said that he doesn't want to switch teams yet again — being traded from Cleveland left the man in tears — but interest in a contract extension shouldn't be a foregone conclusion, even from the Red Sox perspective.