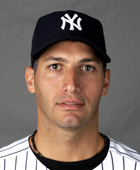 Not that this is shocking news or anything, but in an interview with YES , Andy Pettitte has all but announced that he's done after 2010:
"I can't just keep on playing," Pettitte said. "I need to get back
home . . . There are so many things going on back home and I'm not there. I can't keep asking my wife to take care of everything."
It's a story I'm surprised you don't hear more of in baseball. I'm sure the winters off and the $100 million helps a lot, but how anyone can maintain a stable and healthy family life with the schedule of a major league baseball player is beyond me. At the end of the day you kinda gotta be there.
In other news, this story is written by Jack Curry, late of the New York Times.  Jack Curry is a real good one, and I'm glad to see him taking to his new gig nicely.  Today marks the launch of ESPN New York.* As they did in all of the other cities where they've set up shop, they lured away talent from the local press to fill out the roster.  In New York they took guys like Ian O'Connor and Wallace Matthews.  I bet they wish they could have moved more quickly and gotten Curry instead.
*And thank God for that. Now the New York teams can finally get some coverage on ESPN.