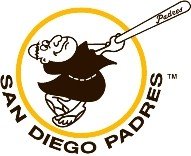 Between now and Opening Day, HBT will take a look at each of
the 30
teams, asking the key questions, the not-so-key questions, and generally
breaking down their chances for the 2010 season.  Next — and last — up: The Padres. And there is no significance to me using the old logo this time. I just like it better than that Love Boat looking thing they use now.

The
big question: Will Adrian Gonzalez finish the season with the Padres?
This is kind of like the Diamondbacks/Webb question in terms of obviousness, but it has far more important competitive consequences for everyone involved, so I don't have similar angst about asking it. Anyway:
You know the drill by now: San Diego still has him under contract for two more seasons at a
combined cost of just $10.25 million. That makes him simultaneously tradable and affordable, which puts the Padres in something of a bind. If he made $10 million this year alone it would actually be easier for them. As of now, the team may want to trade him and could get max value for him, but your average fan who doesn't think too terribly much about long term contracts and baseball economics will view the move as the team being cheap and hopeless and stuff.  And it doesn't help that Gonzalez is from San Diego, is invested in the community and seems to truly love it there.
Thankfully for the Padre fans who do pay close attention, Jed Hoyer seems like the kind of guy who will make decisions based on long term competitive concerns and not the whims of columnists, dilettantes and sentimental ballplayers.  As hard as it may be to do, I think they'll trade Gonzalez this year, I think he'll realize a hefty return for him and I think that, eventually, everyone is going to be happy. Gonzalez because once he's freed from his home run killing park he's going to put up frighteningly good numbers and make himself nine figures. The Padres and their fans because the trade will bring back talent that will be part of the next good Padres team.  In the meantime, the weather is nice there and the fish tacos are excellent, so let's just enjoy it all, shall we?  
So
what
else is
going on?
With Jake Peavy gone the rotation is rather anchorless. Jon Garland will eat innings, as they say, and beyond that are a lot of very tall question marks. Chris Young gets hurt a lot, but if he can recapture his 2007 form he'd be a poor man's ace (if I could recapture 2007 form I'd be drinking too much and wondering how injured I'd have to be before I could claim disability payments and not have to practice law anymore. How about you?).  Mat Latos represents a lot of promise but growing pains are inevitable. That describes half the roster, of course.
The Padres have gone all-in on Hairstons, but the offense is going to be pretty ugly. If Gonzalez is traded the team can probably save money by turning off the lights on the home half of the scoreboard.
Lest Padres fans despair at the loss of Gonzalez, at least they have Kyle Blanks to look forward to. He's 6'6″ and pushes three bills. He's had a great spring and as a power source he ranks somewhere below the Diablo Canyon nuclear plant and somewhere above the Grand Coulee Dam.  Once Gonzalez goes, Blanks will likely rumble over to first base as God and nature intended (note: God did not intend for there to be DHs, so 1B is the best He can do).
My Padres expert of choice is Geoff Young, who notes something in his Padres preview at The Hardball Times that I never would have noticed: the new owners, led by Jeff Moorad, are doing a lot of fan-friendly things such as lowering the price of beer and changing the start time of some game to make things easier for everyone.  Given how much attendance has taken a hit in San Diego these are some smart moves.
So
how
are they gonna do?
What's going on in San Diego is the dictionary definition of rebuilding. But as is the case in Pittsburgh — and is not the case in Houston — rebuilding can be a nice cleansing exercise if you choose to have the right attitude about it. At least in San Diego the process isn't going to take 18-20 years and, hey, didn't I mention the weather and the fish tacos already?
Prediction: Fifth place in the NL
West, but tomorrow will be a better day.