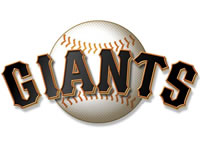 Between now and Opening Day, HBT will take a look at each of
the 30
teams, asking the key questions, the not-so-key questions, and generally
breaking down their chances for the 2010 season.  Next up: Los Gigantes

The
big question: Is there a snowball's chance that the Giants' offense will improve?
The Giants had the worst offense in the National League last year, yet they won 88 games on the power of some excellent pitching.  You'd think that based on that performance, and on the Dodgers' curious decision to stand pat, Brian Sabean would have gone out and done something about the offense. And I suppose in his own special way he did. Unfortunately, Sabean's own special way is to ignore anyone on the good side of 30.
The big additions: Aubrey Huff and Mark DeRosa, neither of whom figure to have the bats to carry the positions for which they were hired (1B and LF). Oh, and Bengie Molina was re-signed too, which has now officially occasioned Buster Posey's demotion to Fresno despite the fact that there is every reason to believe that, if given the chance, Posey would rank higher than Molina on every list short of "years left before social security eligibility."  Service time games are fun and everything, but when you have Tim Lincecum and Matt Cain firing bullets every time out you'd think that you'd want to give them a little damn support.
The Giants are going to give off the appearance of being competitive as long as Lincecum and friends continue to do what they've been doing the past couple of years. But without upgrading the offense in any appreciable way, they're not going to be competitive. Not in a division with the Dodgers and Rockies.
So
what
else is
going on?
The one place where the Giants do appear poised to go with the younger player is the wrong place to do it, and that's in picking Nate Schierholtz to start in right over Fred Lewis. Neither are superstars, but at least Lewis is capable of taking a walk once in a while.  But hey, the local press likes the move so it's not like Sabean is alone in his ignorance of what helps teams score runs.
No offense? Fine, it's pitching and defense. Except the defense really isn't there. Freddy Sanchez won't be back for a while, but once he returns he and Edgar Renteria should help form one of the lease effective double play combinations in the game. Renteria because he's just bad anymore, Sanchez because you have to figure that his range and arm and everything has been impacted by his multiple offseason surgeries.  Aaron Rowand is famous for crashing into walls but his defense is not what it used to be. Pablo Sandoval, well, he hits real good.
But of course, at the end of the day, this team is all about the pitching. And it is good. Lincecum and Cain need no introduction. Neither does Barry Zito who, contract aside, is a dependable guy who will give the Giants a lot of league average innings and maybe a bit better. Jonathan Sanchez has flashed brilliantly on occasion but has yet to put it together. If he does, look out.  The fifth starter's slot will begin with Todd Wellemeyer, but top prospect Madison Bumgarner will no doubt get starts at some point this year.  
The
pen is pretty decent too. The Giants had one of the better bullpens in baseball last year.  Brian Wilson anchors things. Jeremy Affeldt and Brandon Medders are excellent as well. Lincecum's offense and defense will let him down a lot this year, but his pen won't.

So
how
are they gonna do?
The Giants' offseason moves didn't do much to improve the team. Betting on DeRosa and Huff to cure the team's offensive ills was foolish, as is giving money to Bengie Molina when Buster Posey is more than ready to take over.  It will be very tough to score runs on the Giants this year, but it will be no tick whatsoever to keep them off the board. I see no way for them to make up the ground that separated them from the Dodgers and Rockies last year.
Prediction: Third place in the NL West. Less than 700 runs scored.