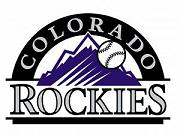 Between now and Opening Day, HBT will take a look at each of
the 30
teams, asking the key questions, the not-so-key questions, and generally
breaking down their chances for the 2010 season.  Next up: The Rockies.

The
big question: Are the Rockies the best team in the National League?
I'm going to say no for now, but that they just might be by the end of the season.  A disappointing 2008 and a mad dash to make the playoffs in 2009 causes most people to think of this team as plucky overachievers or something, but the fact is they're loaded.
Troy Tulowitzki is the best shortstop in baseball, having hit .297/.377/.552 with 32 bombs at age 24. With the exception of Brad Hawpe in right, the Rockies are a pretty fantastic defensive team. Todd Helton is past his days as an elite power hitter, but he is enjoying a nice resurgence as an average/on-base god. Ubaldo Jiminez emerged as an ace last year. They probably have the best bench in the NL. They also have a pair of outfielders in Carlos Gonzalez and Dexter Fowler that possess speed and patience, giving them a nice 1-2 combination at the top of the order.
While there are a couple of weaknesses/concerns going into the season (see bullet points below) the Rockies have a deep system from which they can draw new talent either to help the club directly or to trade for some help during the season.
The upshot: there just isn't much not to like about this team, and I think the chattering classes sleep on their chances at their peril.
So
what
else is
going on?
Huston Street's shoulder problems this spring are one of those causes for concern. Street converted 35-of-37 save opportunities last year and, obviously, the Rockies would be better with him than without him. But let's not overstate his value either: He missed a big chunk of September
last year with biceps tendinitis. The Rockies went 18-9 in September.
Jeff Francis is back after missing 2009 for shoulder surgery and he's looking sharp as spring training comes to a close. The Rockies don't necessarily need Francis to be an ace again to win the division inasmuch as they did just fine without him last year, but if he is back and even moderately effective their rotation is catapulted from merely good to pretty damn good. Jiminez-Francis-Cook-Hammel-De La Rosa? I'd take that.
Brad Hawpe and Clint Barmes are the weak links on this club, with Hawpe swooning terribly in the second half last year (and being a defensive liability) and Barmes posting a totally unacceptable .294 OBP.  There are replacements available for Hawpe as the Rockies are loaded with outfielders, but the Rockies may have to convert some of their considerable organizational depth into a second baseman if Barmes continues to struggle, because I'm not really sold on Eric Young, Jr.
Scariest thing about this team if you're the Dodgers, Giants, Padres or Diamondbacks: how young they are. Helton, Barmes and Hawpe are the only regulars over 30 and, as discussed above, Barmes and Hawpe may not be long for the Rockies' world. I don't think they're necessarily a stone cold lock to win the division this year — stuff happens — but I can see them dominating it for the next 3-5 years.
So
how
are they gonna do?
On paper, the Rockies are the best team in the NL West. The only way I see them not edging out the Dodgers is the injury bug flies around Denver.  I won't get to my awards picks until Monday, but I'm toying with Tulowitzki as my MVP choice in the NL (forgive me Albert).  I don't expect them to go on tears where they win 21 games in a month like they did last season, but I don't think they'll have to either.
Prediction: First place in the NL West and a lot of commentators pretending that they came out of nowhere even though they clearly have not.