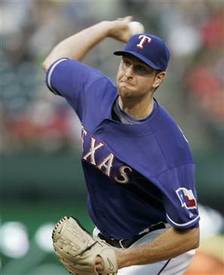 The Rangers have signed right-hander Scott Feldman to a three-year, $13.325 million contract extension, reports Tim MacMahon of ESPNDallas.com. The contract includes a $9.25 million club option for 2013, or a $600,000 buyout.
Feldman and the Rangers avoided arbitration by agreeing to a one-year, $2,425,000 contract in January, however it was overwritten by the new deal, which covers all three of his arbitration years. The 27-year-old will make $2.425 million in 2010, $4.4 million in
2011 and $6.5 million in 2012.
Feldman enjoyed a breakthrough season in 2009, finishing 17-8 with a 4.08 ERA and 1.28 WHIP in 34 games (31 starts). Though he made for a really nice story, the reality is that he posted an underwhelming 113/65 K/BB ratio over 189 innings, all the while surviving with a largely unsustainable .275 batting average against.
In other words, don't be surprised to see him pitch like a No. 3 starter during the length of this contract. Still, that's probably a pretty nice bargain given the small price tag.