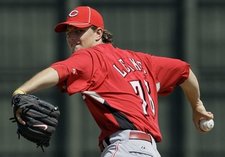 There was a possibility that a certain pitcher would skip the minor leagues to win a spot in the Reds rotation this spring, just nobody — or nearly nobody — expected it to be 2009 first-round pick Mike Leake. But he will.
Leake will become the first drafted pitcher to skip the minor leagues altogether since Dodgers pitcher Darren Dreifort in 1994, according to Mark Sheldon of MLB.com. Reds manager Dusty Baker made it official on Friday afternoon.
"It's kind of surreal right now," Leake said. "It has to soak in a
little."
Because he signed last August, the 22-year-old right-hander didn't make his pro debut until the Arizona Fall League, posting a 1.37 ERA and 15/3 K/BB ratio over 19 2/3 innings. As a result, he was a relative longshot to crack the rotation this spring. The Reds changed their minds after he posted a 3.00 ERA and 10/4 K/BB ratio over 18 innings, showing maturity beyond his years. He outlasted the likes of Aroldis Chapman, Travis Wood, Kip Wells, Matt Maloney and Micah Owings for the assignment.