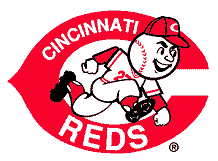 Between now and Opening Day, HBT will take a look at each of the 30
teams, asking the key questions, the not-so-key questions, and generally
breaking down their chances for the 2010 season.  Next up: The Redlegs

The
big question: Will the Reds break .500 for the first time in a decade?
I'm pretty optimistic about this team. Within reason, of course — they won't seriously challenge the Cardinals and aren't good enough to compete with the second bananas in the East or the West for the Wild Card — but I think the Reds are going to take a leap forward this year and post their first .500+ season since Bill Clinton was in office.
I think the biggest reason for this is that the Reds are going to have some respectable pitching. Aaron Harang is in a contract year and seems like a good candidate to bounce back to his former, quasi-ace status. Bronson Arroyo had an under-the-radar 15-win season last year. Homer Bailey's return and resurgence in the second half last season — a 1.70 ERA in 58.3 innings with a 53/24 K/BB ratio in his final 9 starts — was largely ignored because it occurred on a team going nowhere, but he gave those who did pay attention a reminder of why everyone was so high on him a couple of years ago.  Johnny Cueto has great stuff, has shown flashes of brilliance and, at age 24, could certainly take a step forward.  Edinson Volquez won't be back until August, but if the Reds are in it he could provide a late boost or, at the very least, some hope for 2011.  And of course there's a fellow named Chapman down in Louisville who will almost certainly contribute this year.
The biggest question is the offense. It's a group that, if everything goes right, could be more than respectable. Joey Votto is a young star, Scott Rolen is an old star, and if both of them can stay in the lineup the Reds have a couple of bats that will certainly play. Jay Bruce is a highly-touted enigma. I could see him turning in an All-Star breakout season just as easily as I could see him put up one of those ugly 30 home run, 150 strikeout, terrible OBP lines.  It's nice to see that Walt Jocketty hasn't given Dusty Baker some new version of Willy Taveras or Corey Patterson on whom to waste hundreds of plate appearances, but there is still uncertainty in centerfield and left. Drew Stubbs is an interesting prospect who came up and hit for some power late last year and he'll hit better than Tavares did, but how much better is an open question.
Like I said: this is an "if everything breaks right" kind of team. Given that the majority of things rarely tend to break right in any given setting, I don't think the Reds are going to win 90 games or anything. But I do think they'll be a surprising bunch, primarily due to pitching, and will finish second — and above .500 — in an otherwise weak division.
So what
else is
going on?
The Aroldis Chapman watch, of course. As I mentioned yesterday, traditional arb-clock politics is going to cover this, as it probably should from the Reds' perspective. Besides, if he embarrasses AAA hitters for a month or two his legend will only grow, leading to a big sell-out crowd in Great American Ballpark some day in June. OK, like I did with Strasburg, let's call this thing: Friday, June 11th vs. the Royals. Which is who I think Strasburg will start against too, both for competitive and attendance reasons. I may invite the Royals to my son's t-ball league too.
I really like a Jonny Gomes/Chris Dickerson platoon in left.  Dickerson has an OBP-heavy career .845 OPS against righties. Gomes is a career .885 OPS hitter against lefties. These are the sorts of things that get me kinda excited but which make my wife and non-baseball fan friends scratch their heads.
Dusty Baker is in his third season as Reds' manager. He's a lame duck too, and one which would probably require a lot of money to keep around. I don't hate Dusty Baker as much as a lot of web writers do, but I don't think he's the best guy to be leading this team either, so part of me hopes that the Reds improve enough to give the fans hope but not so much that the team feels obligated to bring Dusty back.
Travis Wood is likely to take the fifth starter's spot. Here the Reds have a couple of good options — the other being lefty Mike Leake — but Wood seems like he has the edge. Assuming both Harang and Arroyo are allowed to walk next year — a safe assumption given their salaries — both of these guys are likely to be starting for the Reds in 2011.
So
how
are they gonna do?
I think the Reds will be a pleasant surprise. The sort of team that everyone imagines the Marlins are supposed to be every year: 85 wins, maybe, and kinda dangerous to visitors who are more squarely in a pennant race than they themselves are. The sort of team that causes Lou Piniella to finally throw his hands up and say "ah, screw it, I'm retiring" and really angers Brewers fans who want to know why they can't get a couple of decent pitchers like the Reds have.
Prediction: A somewhat distant second place in the NL Central.