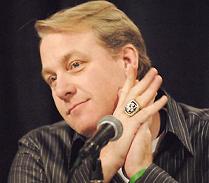 Curt Schilling was asked how he likes the Phillies this year. If you think his response was a diplomatic and conventional "I think they'll be a good ballclub" kind of thing then you're not familiar with Curt Schilling's work:
"I think trading Cliff Lee was the stupidest thing they've ever done,
and they didn't have to. They didn't have to do it. It
was a stupid, stupid move. They could've had a World Series berth
locked up right now with those two guys at the top of their rotation. Those guys would've finished legitimately 1-2 (as) Cy Young candidates
on the same staff. You've got Cole Hamels in the three
slot, which is a dream come true for both. They would've been a 110-win
team."
He goes on and on, of course, dismissing the Phillies concerns about organizational depth which they claim to be the primary reason for the Lee trade (i.e. they wanted some prospects back) and claiming that Lee may have been even more valuable to the Phillies than Halladay in some ways because of his postseason experience, saying "Doc's never pitched in October. I think he'll be great and be awesome
and all that stuff, but he could get to October and not be the guy."
Setting aside Schilling's silly claims that Cliff Lee would make the Phillies a 110-win team and that Halladay will somehow forget how to be awesome in October, I can't help but think that there's some psychological dynamic at work here on Schilling's part. The writer of the story makes a comparison of Halladay and Lee to Randy Johnson and Curt Schilling on the Diamondbacks with which Schilling appears to agree. Schilling is obviously making an egotistical assumption that his path to success — as the part of two-Cy Young pitcher quality staff — is the optimum, if not the only way to build a champion. Moreover, in that comparison, Schilling clearly is Cliff Lee: the obviously excellent but still inferior pitcher. The prospect of Lee being traded away is, in Schilling's mind, the equivalent of a rejection of Schilling himself, thus causing him to lash out with a fury and resentment even he himself cannot fully understand, acknowledge or control.
OK, you know what? I don't like getting in Curt Schilling's head. It's kinda scary in there (reminds me of this) so let's forget it.  How about this: if the Phillies had done with Lee what the Diamondbacks did with Johnson and Schilling and all of the other veterans that won that 2001 World Series, there would be an increased likelihood that they, like the Diamondbacks, would crater competitively a few short years later, crushed under veteran salary obligations and a relatively bare minor league cupboard.
Ruben Amaro decided that he'd rather build something for the long term. It may or may not work, but I think the effort is entitled to far more respect than Schilling — who basically claims that Amaro is just trying to cover his butt — gives it.