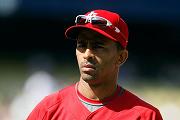 Joe Strauss of the Post-Dispatch reports that the St. Louis Cardinals have traded Julio Lugo to the Orioles.  No word on what they're getting back, but the roster spot is plenty valuable given that the Cards would like to keep outfielders Allen Craig, Nick Stavinoha and Joe Mather on the team and, before the trade, only had two slots to use for them.
More to the point for the Cardinals, the signing of Felipe Lopez — for one MEEEELION dollars — made Lugo redundant. From Baltimore's perspective, Lugo provides Brian Roberts insurance, as he's been dealing with back spasms.
Pretty sensible move for everyone involved. I love efficiency.