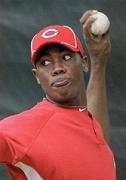 Mark Sheldon of MLB.com says its almost certain that Aroldis Chapman is going to start the season in the minor leagues as his recent back spasms simply didn't permit him to get in enough work in order to force his way into the competition for the fifth starter's spot, which will be won by either Mike Leake or Travis Wood.
All of which is actually pretty good from the Reds' perspective, as Champan's contract has an incentive clause that transforms the $5 million he'd be owed for 2013 and 2014 into a bonus if he becomes arbitration-eligible after 2012. If he becomes arb-eligible after 2013, the $3 million he'd get for 2014 alone is a bonus. So, by delaying him until mid-to-late May the Reds will save the usual year's worth of arbitration-derived salary, plus a couple of million on top of it. Which, if you're the Reds, ain't exactly hay.
As for the Reds' fifth starter race, I don't know much about either Mike Leake or Travis Wood, but I do like the line that Red Reporter dropped on Twitter last week: it's hard to take a Leake when you've got Wood.