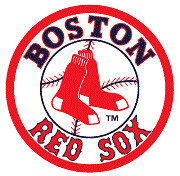 The Red Sox and the Massachusetts State Lottery are partnering up for a new lottery game called "Monster Money."  It's a $10 scratch ticket game that debuted
yesterday. The game offers three $3 million instant prizes and seven prizes of $1
million. Other prizes include Red Sox gear such as jackets, pants,
warm-up jerseys and duffel bags.
In other news, lotteries are regressive taxes which provide false hopes of riches — and in this case, Red Sox logos and gear — in the eyes of a players who tend to skew poor and less-educated (certainly uneducated enough to be unable to realize the astronomical odds against them ever winning anything from them). As gambling games they are complete ripoffs inasmuch as they often retain as much as 50% of all wagers whereas casino games — which already favor the house themselves — pay out in excess of 90% of the gross.  Simply put, you're better off wagering the paycheck on the roulette wheels at Mohegan Sun than you are playing the Red Sox scratch game.
But of course, lotteries benefit the masses, right? Sure, in their own inefficient and indirect way they do. For instance, this lottery pays millions to aid local municipalities. Of course, so too could a tax that is applied more evenly and fairly to the populace and doesn't represent as unreliable a revenue stream as lotteries tend to be. And even if it has to be a lottery, it could certainly be one that doesn't kick millions to the Red Sox in the form of licensing fees as this one does. Indeed, if the Red Sox really wanted to help out the good people of Massachusetts they could simply donate the use of their logo for the limited purpose of this lottery. I'll update this post when they do so. In the meantime, know that the Sox will realize millions from gambling while any player who wanders into the sports book and puts $15 bucks on their team to win it all this season risks a lifetime ban.
Finally, let us all bookmark this post and revisit it in a few months when the first few winners are announced.  If form holds, a few working class people who were rescued from squandering their limited resources by sheer dumb luck will be held up and publicized as role models for other working class people who will thereby be encouraged to do more squandering.
My friend Jason is looking for reasons to hate the Red Sox. This one should count as one, shouldn't it?