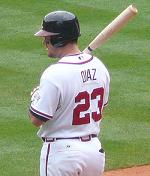 If there's anyone who has a right to be bummed by Jason Heyward winning the Braves' starting right field job it's Matt Diaz who is basically losing his starting job to Heyward. But part of what makes Diaz a useful player is that he's pretty smart, and his brains were on full display today when he was asked about Heyward:
"I'm sure the fans are pleased, but I know this
locker room's very, very pleased. We're all pumped. We know he can help
us. He's going to make pitchers pitch differently . . .I have no idea how it's going to work. I just know we have
four really good outfielders, and Bobby always finds a
way to find people playing time. I'm sure if he feels I have the hot
hand, I'll get to play. I don't know what position, I don't know when.
I'm sure the other guys are the same way."
I'm sure Diaz is aware that Heyward, for all of his promise, is being overhyped to some degree. I'm also sure that if you asked him to be totally honest he'd say that in 2010 he could probably outhit Heyward, certainly against lefties, and very likely overall (indeed; if Heyward puts up a 120-130 OPS+ like Diaz is capable of he'd exceed his already high expectations).
But Diaz is no fool. He knows who the future is in Atlanta, and it certainly isn't a 32 year-old platoon guy.  Maybe it's not appropriate to praise Diaz for acknowledging what seems manifest, but worse players than him have reacted far more poorly upon losing their jobs in the past, and it's nice to see that any potential headaches in this situation are being avoided.
But wouldn't it be great to see Melky Cabrera lose his head over all of this?