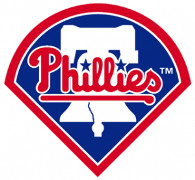 Between now and Opening Day, HBT will take a look at each of the 30
teams, asking the key questions, the not-so-key questions, and generally
breaking down their chances for the 2010 season.  Next up: the defending NL Champs.

The
big question: Will the real Cole Hamels please stand up?

Hamels was otherworldly in the 2008 postseason and damn good in the 2007 and 2008 regular seasons. Last year: slightly less than average in ERA and opposing batters hitting .273 against him, which was a career high. However, there is much to suggest that this was more about bad luck than bad pitching.
Hamels' strikeout and walk rates stayed at basically the same level in 2009 as they had been previously, he was giving up the same number of grounders and fly balls and batters weren't swinging on first pitchers or anything like that more than they used to, which would have meant that his pitchers were fatter than they used to be. This all suggests that his struggles were more a function of extra flares, gorks, ground balls with eyes and a few more dying quails than he was used to as opposed to some loss of his mojo.
My guess: we see a nice bounceback season from Hamels, which will go a long way towards getting the Phillies back to the World Series, my impudent and biased predictions notwithstanding.
So what else is
going on?
Placido Polanco takes over at third after not playing there regularly since 2002.  He'll also bat second, it seems, moving Shane Victorino down in the lineup.  Polanco will likely be fine at third base and lineup construction is overrated, but I'm getting one of those "if it ain't broke, don't fix it vibes" about all of this. Breaking up Rollins-Victorino-Utley-Howard at the top of the order just feels wrong to me.
Brad Lidge was terrible last year and he's back, coming off elbow surgery to boot. Scott Eyre, Clay Condrey and Chan Ho Park were pretty decent, and they're gone. J.C. Romero is also coming off surgery. I think the bullpen is going to be a problem for this team, and it's one of the reasons I picked the Braves to win the division.
If I had to bet serious money on anything in baseball in 2010, I'd bet it on Roy Halladay being an absolute beast. Predicting awards is folly, but he's my preseason favorite for the NL Cy Young. As much as it pains me to admit it, the NL just ain't the league the AL is, Halladay avoids what will be one of if not the best NL offenses in Philly, and he gets a lot of innings against the Mets and Nationals.  Set your DVR for all Roy Halladay starts this season.
Raul Ibanez hit .232/.326./448 in the second half last year.  Was it a function of the sports hernia for which he recently had surgery, or was that his true level after playing clearly above his head in the first half?  I think it's the latter, and I think there will be concerns about his production all year.
So how
are they gonna do?
Don't get me wrong: I think the Phillies are just about the best team in the NL and I'd be utterly shocked if they weren't in it all season. My pick of the Braves is more about my optimism for that club than about me being down on Philly.
Still, I think there are enough questions about the pen, the back end of the rotation and a couple of places in the lineup that mindlessly writing them down as the division winners in March is, well, mindless. I think they'll win a lot of ballgames and if they make the playoffs — which I think they will as a wild card — they'll be favored to win the pennant based on the one-two punch of Halladay and Hamels and the fact that they'll have one of the best players in the league in Chase Utley on their side.  I just don't think they'll be able to run away from the Braves and that due to fate, karma, juju, the whammy and a handful of other phenomena, they'll fall just short in what could be the best race in baseball this year.
Prediction:
Second place in the NL East. Sub-prediction: commenters will ignore all my praise for the team, focus on the second place pick and call me a hater or something.