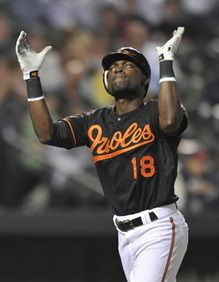 It's been a tough day at the office for Orioles manager Dave Trembley. He already made one tough decision, picking David Hernandez over Chris Tillman for the final spot in his rotation, but he made another notable one later in the afternoon, naming Felix Pie as his Opening Day left fielder over Nolan Reimold.
Reimold is batting just .231 (9-for-39) with one home run and three RBI this spring while Pie is batting .393 (11-for-28) with two home runs, three RBI and two stolen bases. Trembley insists that the decision wasn't about production, but only to protect Reimold, who is slowly working his way back from surgery on his left Achilles' tendon.
"This is not a slight on (Nolan) Reimold, but this is the right thing
for Reimold. He's not 100 percent. You think I'm going to go ask him to
bust his butt on turf?" Trembley said.
The Orioles are set to open their season against the Rays in Tropicana Field, so it appears he is taking the prudent approach.
For those worried about Reimold losing the grip on the job that was seemingly his, remember that Pie's struggles in the first half last season are what brought Reimold to the majors in the first place. It's possible that Pie could blossom into the star he was long ago hyped to be — and his second half last season at least hinted at that possibility — but I'm expecting the two outfielders to split playing time until Reimold is at full strength.