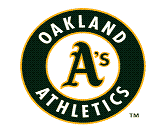 Between now and Opening Day, HBT will take a look at each of the 30
teams, asking the key questions, the not-so-key questions, and generally
breaking down their chances for the 2010 season.  Next up: The San Jose Athletics (forgive me; just tryin' it out)

The
big question: Should Athletics' fans be freaking out about the bullpen yet?
Maybe a full-blown freakout is premature, but you can commence nervous twitching, that's for sure.  The A's pen was clearly the strength of the team last year, leading the AL with a 3.46 ERA. Going into the spring it looked to be returning intact plus adding Joey Devine who will soon be coming back from Tommy John
surgery.
But then the injuries began happening: Devine had a setback that's going to keep him from coming north with the team at the end of the week. Craig Breslow, Mike Wuertz and Andrew Bailey have all been injured in the early going too. Bailey and Breslow came up with bum elbows they're testing out today and Wuertz has a sore shoulder that is still not improving and may keep him from Opening Day.  No one expected the A's bullpen to have another season as good as last year's — they were pretty stellar after all — but they'd probably rather have slightly less effective versions of last year's bullpen cast than to have to trade for and sign Yankees' castoffs Edwar Ramirez and Chad Gaudin, respectively.
Normally this wouldn't be a tremendous cause for concern as even winning teams see a lot of bullpen changeover from year to year. But the Athletics are far more dependent on their pen and have enough questions elsewhere — see below — that if the bullpen is a source of trouble instead of a strength, Oakland's slim chances of contending more or less evaporate.
So what else is going on?
There have been a handful of stories this spring about the return of small ball.  Given that there remains a much stronger correlation between homers and scoring and, well, whatever small ball is and scoring, these stories are overstated.  But if anyone truly is going to live or die by small ball, it will be the A's. Their offense took off in the second half last season, mostly on the power of stealing and bunting and hitting and running and that kind of thing. If they're going to score runs in sufficient quantities this year, it will be via the same methods, because there really isn't any power on this club.
Justin Duchscherer and Ben Sheets are high risk, high reward guys on the front end of the rotation, but there are a lot of young arms on this team, many of them with considerable upside. Brett Anderson is one, and he's joined by Dallas Braden, Trevor Cahill, Gio Gonzalez, Vin Mazzaro and Josh Outman. All of them have flashed quality and all of them have been horrifying, but that's young pitching for you. Ultimately the A's rotation strategy is going to be the same as an insect's reproductive strategy: throw out a ton of youngins and hope enough of them survive to keep things moving along.
Eric Chavez is healthy for the first time in years and years and is going to be a utility guy. Now that no one expects anything out of him anymore he'll probably hit 25 homers or something.
The whole San Jose thing is presumably going to be resolved sometime this year. If I had to guess it will be resolved in the form of that special committee Bud Selig put together releasing a report that says Oakland is no longer a viable home for the the team, followed by a big payoff to the Giants to allow the team to move to San Jose. When that happens, the last six people in the city of Oakland who actually care about the A's will abandon the team. If a baseball game happens at the Coliseum and there's no one there to see it, does it count in the standings?
So how
are they gonna do?
I think that if Sheets and Duchscherer are healthy and effective, two of the young arms take a big leap forward (do arms leap?), and the bullpen's health scares turn out to be a lot of nothing this could be a downright frisky team. The odds of all of those things happening aren't stellar, however, and I don't place enough faith in the Athlectics' offense to be able to cover for any pitching problems.
Prediction:Fourth place, AL West. But if it's any consolation, I think the Athletics will be the best last place team in baseball.