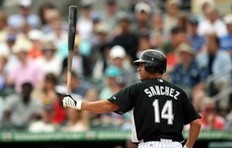 Clark Spencer of the Miami Herald passes along word that Gaby Sanchez has captured the Marlins' starting first base job over top prospect Logan Morrison, who has been reassigned to minor league camp.
Sanchez, 26, hit .409/.460/.659 this spring with 18 hits, five doubles, two home runs and five RBI in 44 at-bats while Morrison, 22, went 9-for-43 (.209) with zero homers.  It's not all about those spring stats, of course.  Sanchez has been waiting in the wings to get a crack at a full-time starting job in the big leagues and Morrison should do well with a bit more marinating at the Triple-A level.
Sanchez is a .276/.323/.552 hitter in 29 major league at-bats.  He's projected by the great Bill James (via FanGraphs) to hit .279/.357/.464 this season with 15 home runs and 49 RBI in 406 plate appearances.