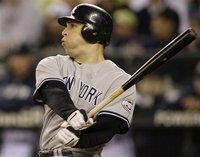 UPDATE: Teixeria was diagnosed with a right elbow contusion, reports Mark Feinsand of the New York Daily News. After being looked at by doctors, it was determined that he did not need X-rays. He'll be re-evaluated on Tuesday. Scary moment, but could have been a lot worse.
8:00 pm: Fingers are crossed in the Bronx right now. Mark Teixeira was forced to exit tonight's game against the Orioles after being hit in the right elbow by Jeremy Guthrie.
I happened to be watching the at-bat and Teixeira was in some obvious and considerable pain. He took some careful strides towards the Yankees' dugout before slamming his helmet to the ground out of frustration. He was immediately removed from the game for further examination.
We've yet to hear an update on his status, but needless to say, the Yankees' lineup would be much less fearsome with the injury-prone Nick Johnson at first base and Marcus Thames or Randy Winn as the designated hitter to start the season. Stay tuned.