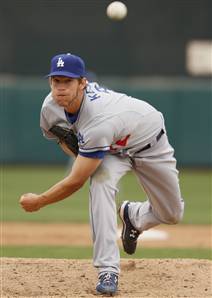 Vicente Padilla has been named the Opening Day starter for the Los Angeles Dodgers, but I don't think it's a stretch to say that right-thinking baseball fans expect that it will be Clayton Kershaw who assumes the mantle of ace. The early evidence certainly is pointing in that direction.
The 22-year-old left-hander dominated the Cincinnati Reds on Sunday, striking out seven while allowing one run in six innings. And he did it without having command of his curveball, relying instead of his fastball, plus two recently added tricks up his sleeve: Mr. Slider and Mr. Changeup.
From Dylan Hernandez of the Los Angeles Times:
According to a chart kept by pitching coach Rick Honeycutt, Kershaw threw seven of eight changeups for strikes and recorded three outs with the pitch. Seven of his nine sliders were thrown for strikes.

Relying on the two relatively new weapons in his arsenal, Kershaw was able to bide time until his curveball started dropping into strike zone.
Kershaw's spring ERA sits at a nifty 1.69. And that comes on the heels of his 2010 campaign in which he was only 8-8, but with a 2.79 ERA and 185 strikeouts in 171 innings.
The potential has always been there, enticing and sometimes dazzling. Is this the year he takes the next step? The signs are certainly promising. Now, if he can just be a little more efficient …
Are you on Twitter? You can follow Bob here, and get all your HBT updates here.