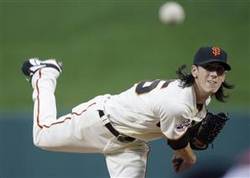 Tim Lincecum left Friday's start against the Angels after four innings and 84 pitches because of a cut on the middle finger on his right hand, reports Chris Haft of MLB.com.
Giants manager Bruce Bochy admitted that there "a little concern" that Lincecum will not be able to make his next scheduled start, however he's done with the Cactus League schedule.
Lincecum was already slated to pitch in a minor league game next Wednesday, a strategic decision by the team, as they do not want the Dodgers — the big league team's scheduled opponent for that day — to get another look at him before the season begins.
Lincecum didn't even mention the cut to reporters after the game, but told Andrew Baggarly of the San Jose Mercury News that his body was at about "85 percent" ready for the new season. The reigning National League Cy Young Award winner has a 6.94 ERA and a 16/10 K/BB ratio in 11 2/3 innings this spring. He's expected to pitch on Opening Day against the Astros in Houston.