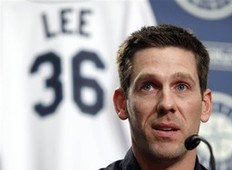 According to Gregg Bell of the Associated Press, Mariners left-hander Cliff Lee underwent platelet-rich plasma
injection therapy on his injured abdomen in Seattle this weekend.
The procedure has been successful in helping athletes recover from ailments like tennis elbow and hamstring strains, but using it to help heal abdominal strains is mostly unheard of.  Lee underwent a similar kind of therapy when first diagnosed with the injury, though, so it's not like the M's are traveling down an unfamiliar road. 
The 31-year-old southpaw went 14-13 with a 3.22 ERA and a 1.22 WHIP last season for the Indians and Phillies.  He's doubtful for the start of the regular season, but should be pitching in a Seattle uniform by the end of April.