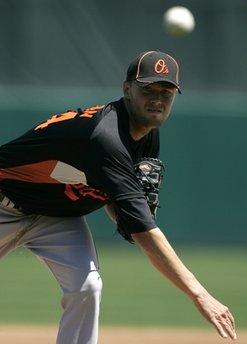 It could happen, at least according to what Brittany Ghiroli of MLB.com has heard:
According to some Orioles sources, Tillman
is not the front runner for the teams 5th job. Hernandez and Berken
would come first right now.
Tillman, who turns 22 in April, was 2-5 with a 5.40 ERA in 12 starts last season. He was widely considered the favorite to earn the fifth starter gig coming into camp and his 3.86 ERA in 16 1/3 innings this spring suggests that he has done little to lose the assignment.
However, including his excellent performance against the Red Sox this afternoon, David Hernandez now has a 3.00 ERA and an impressive 20/3 K/BB ratio over 15 spring innings. Jason Berken, previously thought of as a long-man or spot starter coming into camp, has a 2.84 ERA and 7/3 K/BB ratio in 12 2/3 innings.
Manager Dave Trembley described the competition like this:
"I would say we're going to go 15 rounds with it,"
Trembley said. "We're going to go the distance and keep battling and
keep
running these guys out here and try to make the right decision and the
best
decision. Guys are answering the bell and they're making it real tough
for me.
And I like it."
Besides trying to cram almost every sports cliche imaginable in one sentence, it's becoming clear that Tillman isn't the lock we all thought he was.