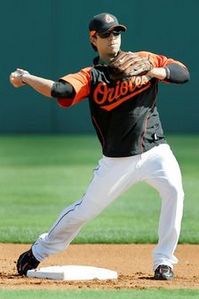 Brian Roberts was 0-for-3 with three strikeouts in his Grapefruit League debut against the Twins on Friday night. The 32-year-old second baseman had been slowed since the beginning of camp due to a slight herniated disk in his lower back.
Roberts told Brittany Ghiroli of MLB.com that his performance at the plate was "obviously, not stellar" but that's not completely unexpected with a layoff of several months.
"My last at-bat, actually I started to finally feel a lot more
comfortable in the box. My first two, I was pretty clueless," Roberts
said. "But that's the way it is every year. It doesn't take long; it
only takes a couple of at-bats just to kind of get your timing going,
see the velocity. That's the biggest thing; you just haven't seen
velocity up until this point."
Manager Dave Trembley said he could "care less" about the results, as long as Roberts continues to swing the bat without any pain. The O's skipper stated that "he had every reason to be confident" that Roberts will be ready for Opening Day. Provided Roberts doesn't feel anything in his back in the coming days, he should only need a few more games to prepare for the new season.