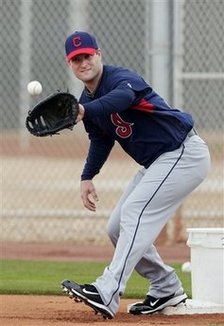 Russell Branyan, who has been sidelined for the entire exhibition schedule because of a herniated disk in his back, hopes to play in a minor league game as soon as Monday.
"If you look at Monday, Tuesday or Wednesday, that's only three days,
but, in the scheme of things, that's a lot of time," Branyan said.
"Monday means a lot more than Wednesday, as far as getting ready for
Opening Day."
The clock is ticking on Branyan, who just participated in outdoor batting practice for the first time all spring on Saturday. If all goes well on Monday, Branyan could play in a Cactus League game on Tuesday, but that's assuming his nagging back condition won't step in.
Branyan's progress over the next week will have a significant impact on how the Indians' Opening Day roster will play out. If Branyan is ready, Matt LaPorta will move from first base to left field, while prospect outfielder Michael Brantley will be ticketed for Triple-A Indianapolis.
Sort of makes you wonder why a rebuilding team signed such a roster headache in the first place. Rest assured, even if he is ready, Brantley will eventually see some time in the major leagues this season when Branyan inevitably hits the disabled list.