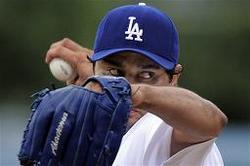 In honor of Joe Torre starting Vicente Padilla on Opening Day (now official!), lar at Wezen-Ball gives us a list of the worst Opening Day starters of all time. Two thoughts:
1. I am absolutely tickled that Jack Morris makes the list. Take that Morris-for-the-Hall-of-Fame truthers!
2. I am happy to see that Rick Mahler did not make the list. There was a stretch there when he was the official Braves Opening Day guy. I think he did it five or six times, which was quite an indictment of the Braves mid-80s pitching. The fact that I actually looked forward to Rick Mahler starting was an indictment of my Chuck Tanner Braves' Stockholm Syndrome as well.
Finally, it's probably worth noting that Padilla's Opening Day start comes on the road against the Pirates, so it's not like the pageantry of the opening bow in Dodger Stadium is sullied or anything.  Why a team from Southern California is playing on the road in the first week of April and a team from snow-and-cold prone western Pennsylvania is at home is another matter entirely.