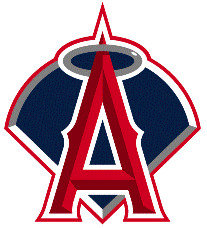 Between now and Opening Day, HBT will take a look at each of the 30
teams, asking the key questions, the not-so-key questions, and generally
breaking down their chances for the 2010 season.  Next up: The Los Angeles Angels

The
big question: Did the Angels lose too much blood this winter?
Chone Figgins is in Seattle. John Lackey is in Boston. Vlad Guerrero is in Texas. The first two of those are more critical than the last one because, sadly, Vlad ain't what he used to be, but they're still significant losses. They were the kind of losses that had the chattering classes, um, chattering back in December and January about how the Angels won't make the playoffs this year.
Since then, however, people have gotten a bit of a grip.  Even with Figgins' OBP gone, the offense is still strong.  There are a lot of players on this team who need to hit for a high average to be truly productive, but there are fluky BA-dependent guys and legitimate BA-dependent guys, and I really don't see a lot of flukes on this team. I expect them to regress a bit offensively, but I don't think they'll fall drastically off the pace that had them second in runs per game in baseball last year.
Same goes for the pitching staff.  Lackey will certainly be missed, but (a)the addition of Joel Pinero takes a lot of that sting away; and (b) it's an open question whether Lackey's performance in Anaheim really justified the exalted status of ace he realized as he headed into the free agent market. Good pitcher, no question, but one who missed a decent amount of time. So no, there's no ace here, but was there really one here before? Regardless, from top-to-bottom I think the Angels rotation will be very solid, health permitting, as it must permit all teams who want to contend.
So what else is going on?
Adding Fernando Rodney as a setup man provides some insurance for the frequently shaky Brian Fuentes in much the same way that adding kerosene to your siding provides added fire safety to your home.  OK, that's harsh. Rodney had a good season last year. But he really got lucky. He's too wild to depend on consistently and I think he's going to have a much worse 2010 than a lot of people realize. Between the uncertainly of Fuentes and Rodney and the loss of Darren Oliver, I think the bullpen will be the team's biggest weakness. And an expensive weakness at that.
Something more specific on the offense: Kendry Morales, Howie Kendrick, Erick Aybar and Brandon Wood are all at
an age where we can expect improvement or, at the very least, the
maintenance of a solid status quo. Bobby Abreu's primary skill —
working the count — ages well. I think Matsui still has a solid couple
of seasons left in the tank. After writing that intro above I stopped to ask myself if I'm being too optimistic about the offense. I really don't think I am. If you think differently, please tell me why.
Deep thought: this may be
the most disrespected three-time defending champion in baseball history. Discuss.
Pfun Pfact: The Angels have outperformed their Pythagorean Win Projection each of the last six
years. Good luck? Real Angels in the outfield?  Mike Scioscia the best manager in baseball these days?  I'll admit, I don't know, mostly because I've probably seen fewer Angels games these past few years than I have seen games for any other contender. Now that I'm actually writing for a living I'm going to be (a) staying up later; and (b) watching a lot more games, so that will remedied.  I'm really looking forward to it.
 
So
how
are they gonna do?
Sure, Figgins is gone, but Brandon Wood could be better than many
think.  The rotation is still very strong from top to bottom.  There's
every reason to believe that Hideki Matsui will be better in 2010 than
Vald Guerrero was in 2009.  And perhaps most importantly, the Mariners
— everyone's offseason darlings — put off more light than heat in
their offseason moves.  I think the Angels are gonna win their fourth straight division crown.
Prediction: First place, AL West.  And yeah, they'll probably once again match up poorly with whatever AL East team they run into, but let's put that out of our minds until at least September, OK?