Joe Strauss of the St. Louis Post-Dispatch reports that "the possibility of
extension for Pujols before '10 season has evaporated," with talks being tabled until after this season.
This is not really Earth-shattering news. Talks hadn't really even gotten going yet, and everyone was well-aware that Pujols had no desire to negotiate during the season. And of course, he's locked up for 2010 and the Cardinals hold a cheap-as-chips $16 million option on Pujols for 2011.  There's basically no reason to think that the Cardinals and Pujols won't get it together eventually.
But it's Friday, so let's have some fun: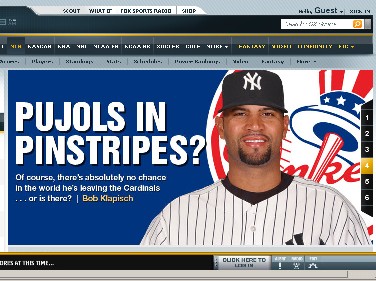 That pic never gets old.  I need to brush up on some Photoshop so I can make one of him on every team.  How awesome would it be to see him wearing a Royals jersey? Or the Mets?