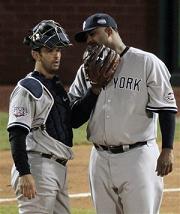 The Red Sox and Yankees average game times are the two longest in baseball, and when the two of them get together, forget it. Major League Baseball has asked the teams to try and move things along, but Jonathan Papelbon — asked about the issue by WEEI's Rob Bradford — doesn't understand why anyone thinks there's a problem:
"Have you ever gone to watch a movie and thought, 'Man, this movie is
so good I wish it would have never ended.' That's like a Red
Sox-Yankees game. Why would you want it to end?"

Asked about having to potentially watch a movie in 30-degree
temperatures, the closer offered a solution, simply saying, "Bundle up
and drink beer . . . If you don't want to be there, don't be there. Go home. Why are you
complaining."
I'll accept his point about bundling up and drinking beer, because that's good advice regardless. I'll also grant that, in the pantheon of complaints "this baseball game is too long" is not a major one. If it is really intolerable don't watch. There's more to life to baseball. Or so I'm told by people I don't truly trust.
But really, just because it's baseball doesn't mean that we should overlook just how annoying these needlessly interminable Red Sox-Yankees games are for people who work for a living. Sure, go four hours if it's an ugly slugfest, but there is no excuse for an otherwise clean 3-2 game to last that damn long.
As for Papelbon's movie analogy, yes, I'd love it if the car chases, dance numbers and fight sequences in my favorite movies lasted forever, but I wouldn't like it if my favorite movies were extended by scenes of guys looking for their car keys, tying their dancing shoes and stretching.
Which is basically what we get with these long Red Sox-Yankees games. Mound meetings, equipment adjustments, extra bullpen throws and long stares into the catcher before each pitch, often by closers like Papelbon and Mariano Rivera who only throw one damn pitch most of the time anyway.
Get in the box. Throw the pitch. Figure out your signs before the game. We'll still love it. In fact, we'll probably love it even more.