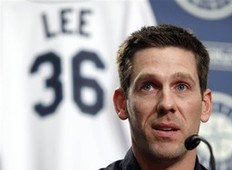 Cliff Lee's abdomen strain is not responding well to rest and a little throwing, so the team has decided to shut him down completely for five days.  It looks increasingly likely, then, that he will begin the season on the disabled list. According to the team, he would need a couple of bullpen sessions before testing the muscle in a
game, and by the time that all happened the Mariners will likely have started the season. This is the scary part:
This is his third strained abdominal muscle since 2003. Wakamatsu noted
the other two injuries, which also happened in spring training when he
was with Cleveland, had Lee out at least six weeks.
I'm working on my Mariners preview right now.  The more I read and write, the more pessimistic I become about the team's chances.  This didn't help them any.