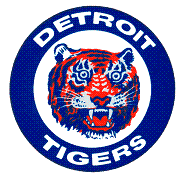 Between now and Opening Day, HBT will take a look at each of the 30
teams, asking the key questions, the not-so-key questions, and generally
breaking down their chances for the 2010 season.  Tiger Time:
The
big question: Is Dontrelle Willis going to make the Tigers rotation?
I'm still kind of dubious, but the fact that it's the end of March and we're even asking that question is pretty astounding.  Before spring training started the rotation seemed kind of set: Justin Verlander, Rick Porcello, Max Scherzer, Armando Galarraga, Jeremy Bonderman and, if Bonderman couldn't cut it, Nate Robertson.
But then a funny thing happened: Galarraga got optioned to Toledo. Bonderman has struggled. Robertson has been pretty solid but Willis — the guy who told everyone at the beginning of spring training that he was terrible — has been nothing short of astounding. Well, maybe that's putting it too strongly as spring training stats are beyond unreliable, but the ball is going over the plate, he isn't walking too many people and guys are swinging and missing.  Today was a mixed bag — Willis was wild, but he recovered and his velocity was good — but the fact remains that Jim Leyland is going to have tough choice to make before the Tigers leave Lakeland.
And even if Willis doesn't make it, at the very worst, a guy that everyone gave up for dead is going to walk off the mound this spring rather than be carted off, and that's more than we ever could have imagined a mere month ago.
So what else is going on?
New young faces: Austin Jackson in center. Scott Sizemore at second. A lot of people thought that Johnny Damon (more on him below) would be the Tigers new leadoff man and that Jackson would start in Toledo, but a great spring from Jackson changed that.  I'm curious to see how he does. He obviously won't be as good as his spring has indicated — he's green and will get challenged once pitchers stop fooling around with him — but I also think that the Tigers sold high on Granderson, so even if he struggles it won't be that big a falloff.  As for Sizemore, he's had a rough spring. Lingering effects of the broken ankle? First real exposure to major league pitchers? Hard to say.  If he struggles early he could be in Toledo himself.
New old face: Johnny Damon. I'm not expecting good things here. Just because you read Damon's home/road splits from 2009 a million times over the winter — .915 OPS and 17 HR at Yankee Stadium and seven
homers and a .795 on the road — doesn't mean the difference is being overstated. He's losing the short porch in right. He's gaining some hectareage he'll have to cover in left.  Opposing third base coaches will be waving fat guys from second base on Damon's noodly left appendage.  At least he'll have the octopus to cheer him up. 
New thin face: Miguel Cabrera gave up the sauce, shed some pounds and came back to camp with his head seemingly screwed on right.  He hit .324/.396/.547 all puffy, hungover and, at least on one occasion, arguably drunk.  With his fresh and healthy new outlook, the guy may really hurt some baseballs this summer.
So how
are they gonna do?
Pretty good, I think. Their top three starters are better than the top three on the competition. I worry about the non-Jose Valverde portion of their bullpen, though, and between the youthful inexperience of Sizemore and Jackson and the aged fragility of guys like Brandon Inge, Carlos Guillen, and Magglio Ordonez there are a lot of things that could send the Tigers' season sideways.  Still, I'm vibing optimistic for some reason, and I think they'll contend on the arms and backs of Verlander, Scherzer, Porcello and Cabrera.  And if, as is sadly likely, Ernie Harwell departs the mortal coil sometime this season, I expect him to pull an Obi-Wan, become one with The Force and freakin' will this team to the playoffs (alongside the shimmering spirits of Ty Cobb and Mark Fidrych) 
Prediction: Second place, AL Central, but I think they'll be in it all year.