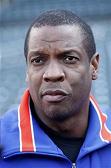 Yesterday's arrest for DWI and child endangerment will not affect the Mets' plans to induct Dwight Gooden into the team's hall of fame, the Daily News reports. As of now he's scheduled to be inducted alongside Darryl Strawberry, Frank Cashen and Davey Johnson.
Probably worth noting that this was not some definitive team statement endorsing Gooden or anything. From the article it seems like someone simply asked the team, the team basically said "um, we just heard about this and haven't changed our plans," which is probably all you can say in such a situation. It will take bigger fish than a media relations person to make a final call on such a thing.
Hard to say what the right thing to do is, here. On the one hand, honoring someone who hasn't acted all that honorably is not the best idea on the planet.  On the other hand, this is technically for a "hall of fame," and when I think hall of fame I think "museum" and "history," and I'm inclined to not let moral and ethical lapses of the subject of history affect the recording of that history. At least that's how I think about it when it comes to Cooperstown. Let in the jerks. Let in the drug users. We can all assess how their personal failings impact their legacy, but let us not erase the legacy or pretend that they didn't exist.
I guess all of this depends on how much this thing the Mets are doing is really about recording history vs. how much it is about having "Dwight Gooden Day" as a promotion. If the former, sure, go on as planned. If the latter, eh, maybe take the whole matter under advisement, allow this episode to unfold, determine how ugly it is and then make a decision later.