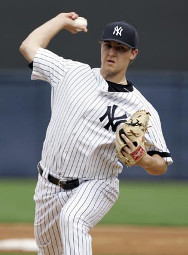 UPDATE: It's Hughes.
8:29 A.M. The Yankees fifth start competition has been the most celebrated race for a meaningless job since the last vice presidential search. It's enough to make me wish for a giant scandal in Yankees camp. I mean, at least it would be fun to talk about, say, a fistfight between Nick Swisher and Mick Kelleher over a card game or a big Marcus Thames steroids beef or something.
But no, we've been stuck with Joba and Phil. It'll likely be resolved today with Joe Girardi naming Phil Hughes his starter and sending Chamberlain to the pen to set up for Mariano Rivera.  Joba fans will complain. The people who think he was born with a bullpen phone stuck to his ear will rejoice. The tabloid writers will spend far too much time talking about how Girardi's choice reveals important truths about each man's character and destiny. It'll be a gas, man. But one tabloid writer makes a pretty wise point. It's Joel Sherman of the Post, who notes today that the stakes of this fifth starter race aren't all that high.
Why? Because the Yankees have every Monday in April off and won't need a fifth starter until the 17th at the earliest, and even later if it rains. Also because Phil Hughes, like Joba before him, will be subject to an innings limit, probably around 170. When you figure that the Yankees are far more likely to make the playoffs than miss them, that means Hughes will need to be pretty severely limited in the early going if they want him to be available for the playoffs (where he'll likely be a reliever again anyway).
Sherman thinks that the Hughes rules will require that he either start the season in Scranton, where he can be yanked after three or four innings without anyone making a federal case out of it, or split his starts, with him taking the first few innings and having either Alfredo Aceves or Sergio Mitre as scheduled relievers to take, say, the fifth, sixth and seventh innings.
The upshot: the conclusion of The Great Fifth Starters Race of 2010 is going to be pretty anticlimactic.  As it should be.