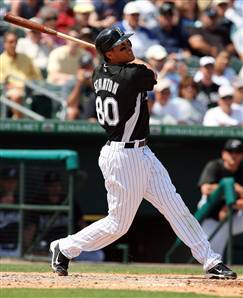 The Florida Marlins sent Mike Stanton down to Double-A Jacksonville on Wednesday. (No not this Mike Stanton, this Mike Stanton. You know, the guy who hit 28 home runs in 129 minor league games last season.)
Anyway, the strong, young, Marlins' version of Mike Stanton might not be down on the farm too long, as Marlins manager Fredi Gonzalez sounds eager for his star prospect to bash his way to the bigs, no matter who gets hurt along the way.
From the Miami Herald:
"We sent him down, but he'll let us know when he's ready," Gonzalez said Wednesday before his team began warming up to take on the Minnesota Twins at Hammond Stadium. "It's just a matter of him getting some at-bats and putting up some numbers or decapitating somebody down there. Maybe the league president will say get this guy out of here before he hurts somebody."
The 6-foot-5, 230-pounder, who is ranked No. 3 on MLB.com's Top 50 Prospects List, hit .333 with a .407 on base and .833 slugging in 24 spring at-bats. He also hit three home runs this spring, all off Major League Pitchers (although one was a Met, and none of the pitchers were decapitated or otherwise injured).
So consider this an official notice to pitchers of the Southern League: Don't forget to duck.
Are you on Twitter? You can follow Bob here, and get all your HBT updates here.