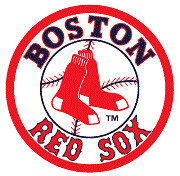 Between now and Opening Day, HBT will take a look at each of the 30
teams, asking the key questions, the not-so-key questions, and generally
breaking down their chances for the 2010 season.  Now the Red Sox: Good times never seemed so good.
The big question: Will the Red Sox score enough runs?
Just because it's "the big question" — and it's "big" because everyone in the Boston press corps and greater Red Sox Nation seems to want to ask it — doesn't make it a great question. It's worth asking simply because a team can never score too many runs, but what seems to be motivating the question this spring is not a concern about the Sox' offense for its own sake, but a misguided belief that, simply because the team doubled down on defense this winter the offense will necessarily suffer. False dichotomies are fun and everything, but if I went through life asking myself whether I wanted chocolate or vanilla Frogurt I'd miss out on the fact that there's a swirl option too.  Put more simply, a team can both improve run prevention and maintain a more than adequate offense, and I think the Red Sox have done that.
Projections are what they are, but the Red Sox project to have the second best lineup in the AL this year. More tangibly speaking, Jason Bay is gone, but Marco Sutaro and a full season of Victor Martinez represent significant improvements. Adrian Beltre is one of those gloves that was brought in, but with his health restored and a more friendly hitting environment I expect him to do quite well. Everyone hates on J.D. Drew, but he's still an excellent hitter.  This team will score some runs. Not that anyone who wrote one of those hand-wringing "will the Sox score enough?" articles this spring will admit that they were grabbing for easy storylines instead of thinking about the Sox' offense (query: is the fact that I used this as a "Springtime Storyline" hypocritical? Meta? A pun? I think it was a pun. Yes, that's it.).
So what else is going on?
John Lackey was the big offseason pickup, of course, and with Josh Beckett and Jon Lester the Sox have a potent 1-2-3 in the rotation. If this team makes the playoffs, watch out, because those guys will be hard to beat;
The 4-5 is a bit less solid. After a rocky 2008 and a rocky beginning to his major league season last year, Clay Buchholz put up a nice run to close the season (just ignore the last two starts, please. Thanks). If he can maintain that, great, but he still has something to prove on the major league level. I think he will, but whether that comes after a few more speedbumps is up in the air. At this point Dice-K is a mystery wrapped in a riddle wrapped in a 3.5 hour game during which I fell asleep around the fourth inning. Tim Wakefield throws a knuckleball, though, and I remain convinced that one day a knuckleballer will go 35-0 with 400 strikeouts (and he'll be limited to 35 starts only because The Man wants to keep knuckleballers down). Could be Wakefield this year. Then again, I could be letting my irrational love of the knuckleball get in the way. Hard to say;
I wonder about the bullpen. Papelbon is still good, but his playoff struggles worry me and overall he strikes me as a guy who could take a step back. Hideki Okajima, Manny Delcarmen and Ramon Ramirez all fell off a bit last year. Maybe they all had uncharacteristic swoons, such as they were, and will roar back this year. Maybe it means that the bullpen will be a bigger problem than a lot of people think;
Overall run-scoring aside, David Ortiz is a big question mark. A lot of people will note that he picked things up nicely after his dismal start last year, but all 162 games count, and the Red Sox don't need another swoon like they saw from Big Papi in 2009. If, as is totally possible, his bat just won't play this year, the Red Sox will have a hole in the lineup that will nag.
So how are they gonna do?
Ultimately there aren't as many questions about this team as there are about other teams because, let's face it, every move the Red Sox make is analyzed to the nth degree.
Sometimes, however, that level of scrutiny can actually obscure the overall picture.  I can't put my finger on it, but I just get this feeling that this team is somehow less than the sum of its parts. No, I'm not talking about chemistry or that kind of nonsense, just a feeling that a lot of guys could have less-than-stellar years. There's less upside on this team than there is on the Rays. There's less room of error here than there is in New York. If, say, Kevin Youkilis gets hurt and Josh Beckett stumbles, an otherwise excellent team could be merely good, and merely good isn't going to cut it in the AL East.
Prediction: Third place in the AL East, just out of the postseason money.  This isn't hate — The Sox will be good and I think it's going to be a ridiculously close race all season long — but I just have less confidence in them and perhaps a touch too much confidence in the Rays. Buy hey, that's why they play the games.