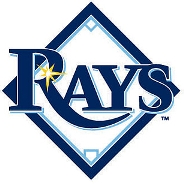 Between now and Opening Day, HBT will take a look at each of the 30
teams, asking the key questions, the not-so-key questions, and generally
breaking down their chances for the 2010 season.  I started with the Yankees, so I bet you thought I'd go Red Sox next, eh kitty cat? But I pulled the string like Johan Santana, didn't I? Is your mind blown?!
The big question: Will B.J. Upton finally break out?
Just because I don't have an answer to a question doesn't mean it's not worthy of being asked. And truth is, I have no idea if Upton is going to do more in 2010 than he did in what was a very disappointing 2009. Disappointing in part because his 2007 regular season and 2008 postseason were so great. Disappointing because he's obviously got power, plate discipline, speed and the defensive skills to be a game-changer, yet last year he was utterly flaccid, with the biggest concern being the drastic falloff in his walk rate.
Upton was coming off labrum surgery entering last season and, by all accounts, he's working his tail off this spring.  If that translates to something approaching his 2007 production the Rays are going to be scary as all get-out. If he puts up another .241/.313/.373, the Rays' offense — while still impressive — will remain a step or two behind their big brothers in the AL East.
So what else is going on?
The acquisition of Rafael Soriano changes the complexion of the Rays' bullpen.  Soriano split time with Mike Gonzalez as the Braves' closer last year, but he's better than a lot of guys other teams will trot out in the ninth this season. He has a lot of mileage on that arm, however — Bobby Cox has a thing for treating relievers with a history of arm trouble as so much Kleenex — but if he stays healthy he moves J.P. Howell, Grant Balfour, Dan Wheeler, Lance Cormier and Randy Choate down in the hierarchy, which improves things nicely;
Carl Crawford and Carlos Pena are likely in their last go-around as Rays.  It seems like a foregone conclusion that Crawford will leave via free agency after this season. If you're the Rays you probably keep him and accept the picks whether you fall out of the race or not. Pena may be a different story. He's not exactly a sterling free agent candidate — there are a lot of big name first basemen coming available soon — so he could very well accept arbitration if offered.  The Rays will obviously need him in a race, but if they disappoint this year, he could be dealt;
Joba and Phil get all the press, but there's been a much less-publicized fifth starter race in Tampa Bay between Wade Davis and Andy Sonnanstine.  Davis got shelled the one day I saw him this spring, but most folks think that he has the edge. Ahead of them, you can expect James Sheilds and Matt Garza to be solid. Jeff Niemann and David Price have tremendous upside — with Niemann having realized more of his than Price has thus far — so how the Rays pitching fares probably depends a lot more on those two than anyone. If any of them falter, Jeremy Hellickson is waiting in the wings.
Wild cards:  Even if Carl Crawford hangs around, it's not beyond credulity to think that heir apparent Desmond Jennings will see some time in the Rays' outfield, most likely in right if Matt Joyce and Gabe Kapler can't cut it.  Late pickup Hank Blalock has turned heads during his brief time in camp and could make the roster, pushing Pat Burrell into a platoon situation at DH and shuffling the Rays bench.  Don Zimmer is still coaching, and it's been a while since we've seen closeups of his ugly mug in the playoffs and, quite frankly, I miss it.
So how are they gonna do?
There are a lot of guys on this team that can be expected to take steps forward this year and none that I can think of who should be expected to take a major step back. Maybe Zobrist. They have a lot of premium talent that is just about major league-ready. Assuming nothing but the positive is a good way to find disappointment in this ugly world, but I think that the Rays are going to be a significantly improved team in 2010, and they were already pretty darn good.
Prediction: Second place in the AL East and Wild Card winners.  That's right, ahead of the Red Sox in what I think will be the closest race in baseball this year.  Sox fans may now commence their whining. But save some, because I'm doing the Sox preview next and you don't want to tire yourselves out.