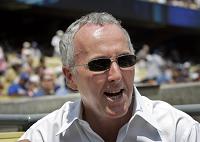 Frank McCourt was behind the relaunch of the Los Angeles Marathon which was run this past weekend.  In today's Los Angeles Times he waxes defensive:
"Not a single person in the media has asked me how my divorce affects
the marathon, because it doesn't. I understand the urge
by the media to create drama around my personal life. It's really not
that dramatic."
Of course, if there was documentary evidence that McCourt was sucking millions out of the Los Angeles Marathon to support a lavish lifestyle like he's done with the Dodgers, you can bet your bippy there would be questions. In other news, the organization of the marathon wasn't nearly as skippy as the mainstream media reports would have you believe. I'm assuming it was somehow Jamie's fault.
One point in McCourt's defense from the article: I agree with his defense to Rosenthal's criticism from the other day that Dodgers didn't trade any of their young talent to rent CC Sabathia or Cliff Lee or someone like that. If there was a potential trade that (a) didn't involve Matt Kemp and/or Clayton Kershaw; that (b) would have landed them a big fish for the playoff push I might change my tune, but upon reflection I'm having a hard time going too crazy over that.
The Dodgers should probably be entering 2010 with better options than Russ Ortiz in their starting rotation, but the idea that their failure to make blockbuster deals down the stretch evidences McCourt mismanagement is off base, I think.