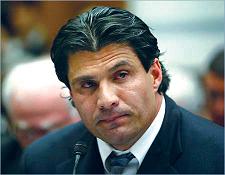 The New York Times has an article on the grand jury subpoena Jose Canseco tweeted about yesterday.  Three takeaways:
A lawyer for Canseco said Tuesday that he had been contacted three weeks
ago by a federal prosecutor in Washington who was seeking to serve
Canseco with a subpoena. The prosecutor wanted Canseco to testify before
a grand jury that is investigating whether Clemens committed perjury
when he testified before Congress in February 2008 and denied using
steroids and human growth hormone, the lawyer Greg Emerson said.
Since Canseco knew what this was about beforehand, it means that the shock and surprise in his tweets yesterday was phony, and no doubt calculated for publicity purposes. Should have known better given that he's the kind of guy who likes to call press conferences every time another player is outed as a steroid user.  Someone remind of this the next time I play up Canseco's tweets, OK?  Also:
Canseco has repeatedly spoken and written of his own drug use and has
linked several ballplayers to performance-enhancing drugs in two books.
However, he has not directly tied Clemens to the use of illegal
substances. In the book "Vindicated," which was published in 2008, Canseco said that
he had concluded that Clemens did not use steroids or H.G.H.
I had forgotten that Canseco largely defended — or at least did not directly implicate — Roger Clemens with respect to steroid use in his book and in an affidavit connected to the Clemens congressional testimony. In the comments yesterday a lot of you referenced Canseco's track record for apparent honesty when it comes to PED allegations.  But couldn't Canseco's grand jury testimony end up challenging what most of you think of Clemens and/or Canseco?
After all, if Jose sticks to what he said previously, Clemens' story is bolstered somewhat, no? I mean, Jose has the goods on everyone, it seems, and given that Roger and Jose were closer that Jose and most of the other people he named, if Canseco says Clemens didn't do PEDs, doesn't that mean something?  At the same time, if Canseco ends up implicating Clemens before the grand jury — contradicting what he's said on numerous occasions — does it not throw into question all of the other non-confirmed claims in the books he wrote and the interviews he gave?  Finally:
Emerson was present when Canseco met with federal agents in April 2008,
two months after the Congressional committee asked the Department of
Justice to investigate Clemens for perjury. At the meeting, Canseco was asked about Clemens's use of
performance-enhancing drugs and reiterated that he had no knowledge,
Emerson said. Canseco was also asked about Alex Rodriguez's ties to performance-enhancing drugs and that of other
high-profile baseball players, the lawyer said.
For those keeping score at home, Alex Rodriguez will be questioned by federal agents on Friday. Less than two weeks later, Jose Canseco will be in front of a grand jury where, presumably, he will once again be asked questions about Alex Rodriguez, just as he was in 2008 (and believe me, if a grand jury witness has ever been questioned about something by federal agents before, the prosecutor will ask him about it again).
Hey Mike Lupica! Still want to take shots at A-Rod for "lawyering up? Because from where I'm sitting, A-Rod's decision to consult with counsel before heading up to Buffalo the day after tomorrow seems like a pretty savvy move if you ask me.