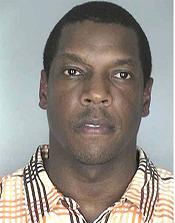 Not less than ten minutes after reading this story in which Doc Gooden offers his advice to Stephen Strasburg I read that Gooden was arrested after being involved in a crash after which he was charged with:
Driving under the Influence of a controlled dangerous substance;
Endangering the welfare
of a child;
DWI with a child passenger;
Leaving the scene of a motor
vehicle accident;
Failure to keep right; and
Failure to
notify change of address regarding driver's license
You'd think the first six charges were enough without that address beef, but if I saw that a guy was driving his kids around while on drugs I'd spend hours in the law library looking for new and outrageously punitive things with which to charge him.
As I sit here right now I'm struggling to think of someone who has wasted his life and the second, third, fourth and fifth chances (and then some) he was given than Dwight Gooden has.  Maybe there's one or two, I don't know. I do know, though, that Stephen Strasburg should take any advice Doc Gooden has for him and do pretty much the exact opposite.