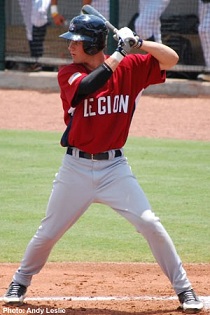 I've been critical of Bryce Harper skipping two years of high school in order to become draft eligible this year. I've done so as a father who has been kind of freaking the hell out recently over just how fast his kids seem to be growing up and as a man who wonders from time to time what happened to his youth.  It's subjective, I know. I don't know the first thing about Bryce Harper the young man and even less about his parents. He may wind up being the most well-adjusted guy on the block.  I have no idea, really. When I write about Harper's life choices I'm fretting, and I admit that.
FOX's Jon Paul Morosi frets too, for many of the same reasons, and channels his fretting into a compare-and-contrast between Harper and Joe Mauer, concluding that, all things being equal, Harper shouldn't have left school early:
Harper is probably a nice kid. I don't know. I've never met him. But I
am certain of this: Right now, he is one terrible role model. And that
has nothing to do with the fact that he was recently ejected from a game
for taunting.

In baseball, "staying in school" used to refer
to college juniors who elected not to sign and instead returned for
their senior years. But here comes Harper, bolting from high school
before he could park with the upperclassmen.

It's not right.
But it's legal under the current basic agreement. If baseball isn't
careful, Harper might inspire a legion of followers — and few, if any,
will possess the same ability. That is bad for the game and worse for
the kids. They will be like the teenagers who skipped college to chase
their hoop dreams … only to wind up with the Fargo-Moorhead Beez.
I worry less about the copycat thing than Morosi does, simply because it's probably a lot harder for a GED-taking high school kid to latch on to a college program than it is for a high school basketball player to simply declare for the draft, so to the extent this is about example-setting I think Morosi is overstating the concern.
Beyond that, I'm not overly-impressed with the Mauer comparison.  I'm sure Mauer is a great guy and everything, but as I read through Morosi's take on it, I couldn't help but think that everyone's situation is different and we'd probably be better off not judging the decisions parents and their children make. At least the not obviously-ridiculous ones. $25,000 sweet sixteen parties are unadulterated evil, but I knew a couple of people who went into engineering school at age 16 and they turned out OK (I'm sure they would have remained virgins at 30 even if they had played out the full high school string). A baseball player who is clearly ready for the next step should be allowed to do it too.
So I guess what I'm saying is that I'm officially flip-flopping on the whole "let's beat up Bryce Harper and his folks over putting him into the draft early" thing.  It's inconsistent I know, but as I tell my children, I always reserve the right to change my mind.