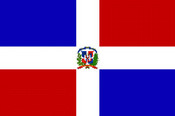 I'm opposed to the the imposition of an international draft during the next round of collective bargaining for a few reasons. For one thing, I think it will be a logistical and political nightmare, as would anything that requires even the tacit participation of a guy like Hugo Chavez. I also tend to find it unseemly that a bunch of guys — current players — are able and willing to toss the rights of teenagers in other countries over the side at a U.S. collective bargaining table. I'll grant, however, that those issues are more philosophical than practical, so it's not like I expect anyone to take them too seriously.
More practically and more significantly, I worry that an international draft would eliminate the incentive for major league teams to go out and work hard to
develop amateurs in places like the Dominican
Republic, building academies and the like. I mean, why would they make such an investment if they would have absolutely no inside track to any of the talent they find there? If you're the Astros, are you really going to want to see the Cardinals draft the talent you discovered and developed? Of course not.  And this isn't just hypothetical. Look at Puerto Rico. Before 1990, there was no draft there, and all kinds of
Puerto Rican talent flowed into the Major Leagues. Since then: baseball
has declined horribly in Puerto Rico, and most observers blame the draft.
But perhaps my concerns on this have been overstated.  ESPN's Jorge Arangure has a take on this today that's definitely worth a read.  In it he argues that the fate which befell amateur baseball in Puerto Rico won't necessarily happen to the Dominican Republic because baseball and its attendant income is simply much more important to people in the latter than in the former:
Could what happened in Puerto Rico happen in the Dominican?

The
simple answer is that it doesn't seem as likely. The difference lies in
economics. An international draft will almost surely bring down bonus
amounts, but that will have less of an impact in the Dominican where
nearly half of the residents live under the poverty line and the Gross
Domestic Product per capita is in the $5,000-$8,500 range, depending on
the source. This means that claiming even a $5,000-$10,000 signing bonus will have a
substantial affect on a family in the Dominican, much more so than it
would in Puerto Rico where the GDP per capita is around $18,000.
I hadn't considered the monetary angle of it.  Is the greater need to earn an living from baseball in the Dominican Republic enough to overcome the disincentive on the part of the teams to find talent?  Hard to say, but it may be. It certainly could work to lessen the impact of development divestment on the part of the teams. Of course, it may increase the profile of buscones too, as someone is going to have to find that talent when the ballclubs reign in their development budgets to concentrate on players closer to draft age as opposed to finding younger players they wish to woo.
I still remain opposed to an international draft — those philosophical objections still nag — but Arangure's article has certainly made me rethink the competitive impacts of such a beast a bit.  As we get closer to the new CBA negotiations, I'll continue to rethink and (gasp!) research it a bit more.