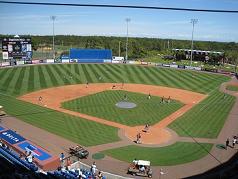 There weren't any bad experiences during my trip to spring training, but being honest — and trying to be as fair as possible — I'll have to say that the Mets' facilities in Port St. Lucie were my least favorite.  I'm not saying there was anything particularly wrong the place, just that the whole setup — the ballpark, the press stuff, the people, the town, the overall scene — fell short of the more or less exceptional experiences I had elsewhere.
One thing that did stand out, though, was the name of the Mets' spring training park: Tradition Field.  I have no idea if that is a covert corporate name like "Great American Park" or something, but it just sounds cool. Feels like baseball!  Or, should I say, felt like baseball.  Here's Tyler Kepner of the NYT a few minutes ago:
Here's a new one: in the middle of a game, the
Mets announce they've renamed their spring training stadium. It's now
Digital Domain Park.
Ah, the Mets. Impeccable timing! Impeccable taste!